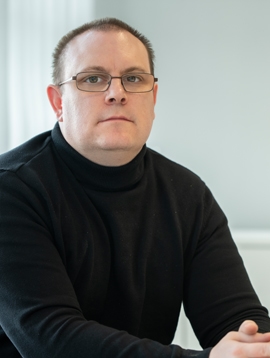 Ian Lowe
Associate and Chartered Architect
BSc(Hons), M.Arch, PGCert PPA, ARB, RIBA, ACIAT
Ian joined the practice as a Technologist in 2003 where he worked on a wide variety of technical drawings and construction delivery projects before taking a sabbatical in 2012 to undertake a master's programme in architecture at Leicester School of Architecture. Ian qualified as an Architect in 2016 and is a chartered member of the RIBA. Ian also holds an associateship with CIAT from his technologist days.
Ian has over 16 years' experience in the construction industry and has a keen interest in environmentally responsive and high tech design, coupled with socially inclusive design. Ian has undertaken several prestigious and award winning schemes whilst working with HSSP Architects, and has also won the LABC Regional Awards 2021 Construction specialist of the year award.
Ian spends his spare time researching new construction methods and the ever changing world of sustainable design as well as teaching construction technology on an ad-hoc basis at a local university.
Fun fact: Ian regularly enjoys listening to and going to see performances by Finnish Death Metal band Swallow The Sun; which is why he is not allowed to choose the music on the office hub!!
Back to Team