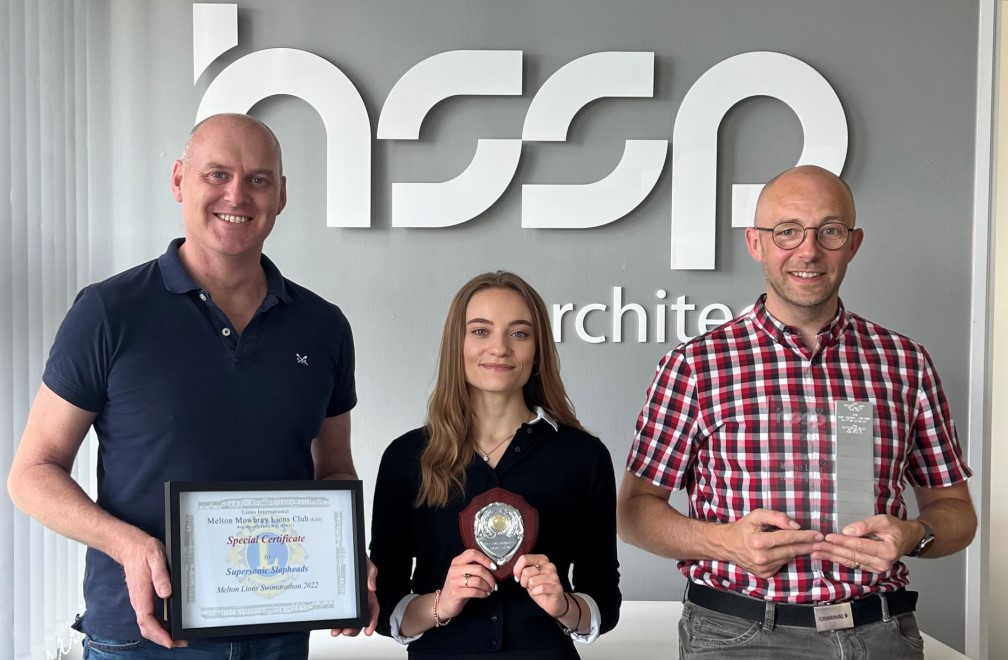 Melton Mowbray Lions Club awards special trophy to HSSP Architects
Wednesday 15 June 2022 saw the Melton Mowbray Lions Club Swimarathon presentation evening celebrating individual and group fund raising achievements and endeavours, and to present the monies raised through the event to the charities.
Ros attended the jolly evening which was hosted by the ever enthusiastic Lion Sabrina Tate. To hear her speak of the selflessness acts that people have done whilst fund raising was very heart warming, and trophies and certificates were deservedly awarded.
The most money raised turned out not to be by a team but by one person alone which is an amazing achievement. A staggering amount of more than 200 lengths scooped the honour of the most lengths, whilst the original team name went to the Rusty Submarines!!
Some adorable school children were rightly awarded trophies for their achievements and endeavours. With special certificates going to an individual, a children's/youth group and a school.
Then a one off special award was announced for HSSP Architects! We were described as 'they are a company who have always supported the Lions each year through Sabrina's reign as fundraising champion, who sponsor not only a lane, but also enter a team'. Ros was delighted and honoured to accept this unexpected accolade on behalf of HSSP and the Supersonic Slapheads – HSSP's swimming team this year! To read more about their swim this year, follow this link A team from HSSP took part in the Lions Swimarathon – HSSP Architects
Representatives from the charities were overjoyed to accept the donations and spoke of the good causes these monies will support:
Alzheimer's Society: United Against Dementia (Melton)
The Mayoral Charity: Young Lives vs Cancer
The remaining third of the monies will go towards Lions Projects that fund local charitable projects within the Borough of Melton.
The evening ended with a delicious buffet and informal chatter. The Lions Swimarathon is a fantastic event that is great fun; if you have a team you can muster together, why not enter next year?
By HSSP Architects