House Extensions and Home Renovations
Beautiful, bespoke extensions and renovations to add value and transform your home.
Re-imagined living spaces and house extensions, transformed lofts and renovated outbuildings can accommodate your household's evolving needs and increase the value of your property.
We have over 50 years' experience in creating striking contemporary house extensions and sympathetically modernising heritage properties. We take our time to understand your individual needs and create bespoke budget-conscious design solutions that revitalise your home and embrace your lifestyle demands.
Design, planning and project management under one roof makes your house extension or home renovation project simple – no matter how large or small.
Call us on 01664 563 288 for a friendly chat about your house extension or renovation project.
Our Architectural Services – house extensions
At HSSP, we tailor our services to suit your renovation project. We offer a full-service contract to take your initial brief through to completion or bespoke expert packages.
Typically, a Full-Service Contract would include:
Initial meeting
Project brief comprising of your requirements, budget, any site restrictions and your ideal timings
Feasibility studies including pre-planning consultation where necessary
Design concepts, 

3D visualisations and concept models

Detailed planning submission drawings, planning application management and planning consultancy
Detailed construction plans (including structural engineering calculations as required)
Preparation of build tender information
Commissioning builder / contractor
Contract administration
Our design packages start from £3,500 + VAT, but our fees will be bespoke to your particular project depending on its size and complexity.
If you require expert support on planning applications or concept sketches at the start of a process then contact us for a fixed rate cost.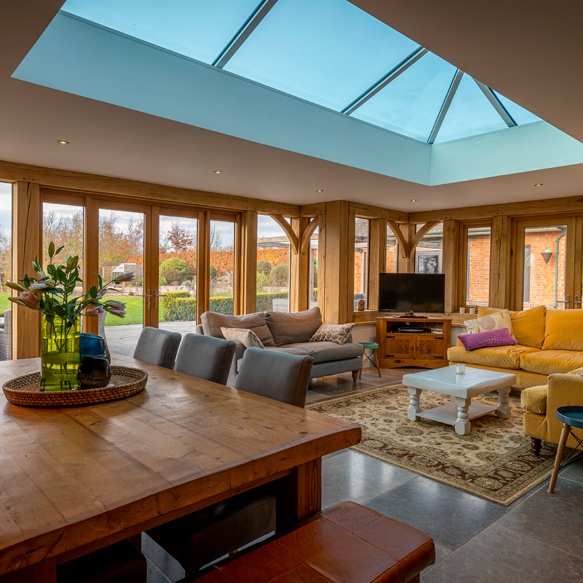 If you value quality and individuality, you've come to the right place! We treat all our projects with a fresh approach and every project, regardless of scale or value, is overseen by a HSSP director. Our friendly, experienced team will guide you through the process every step of the way.
Call us on 01664 563 288 for a friendly chat on how we can support your house extension project.
FEATURED PROJECTS
Here's a few of our favourite projects showcasing our varied work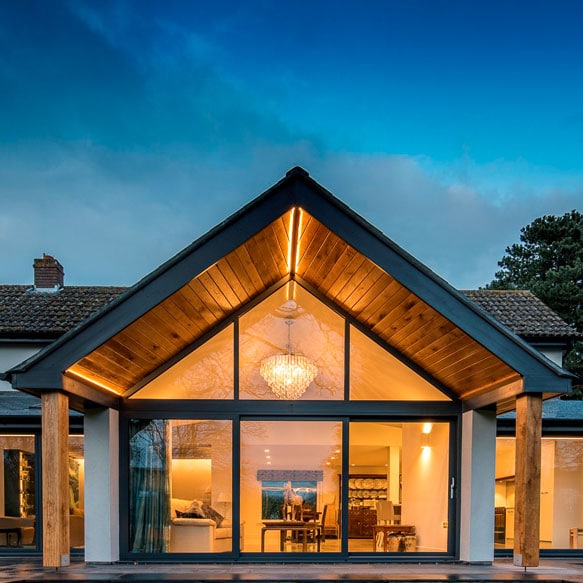 Spectacular ground floor extension with an innovative projecting glass apex, offering panoramic views of the property's stunning location.
Extended and renovated 1960's house using natural materials to create a wonderful and striking modern home.
Extended and renovated 1960's house using natural materials to create a wonderful and striking modern home.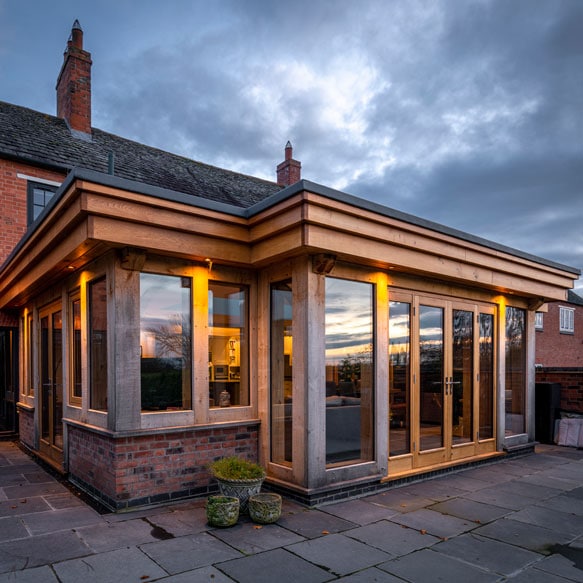 Impressive and sympathetic cottage extensions to create a modern home using oak and natural materials.
Why choose HSSP Architects to help you build your dream home?
YOU'RE IN SAFE HANDS
RIBA CHARTERED MEMBERS AND ARB REGISTERED
RIBA stands for the The Royal Institute of British Architects. It is a global professional membership body driving excellence in architecture. Choosing an RIBA accredited Chartered Practice will give you peace of mind. We must comply with strict criteria covering insurance, health and safety and quality management systems. We have been members of RIBA since 1996.
All of our qualified architects are also registered with the Architects registration Board. This is the body set up by Parliament as the independent UK regulator of architects and only people in this register are legally entitled to use the name "architect" in business or practice.

Protect the value of your property
Your home is probably your most valuable asset and unless your project is very simple it makes sense to work with an qualified trained experts who can advise you and give you the best design solution that reflects your aspirations whilst remaining within your budget
PRACTICAL SOLUTIONS
Using a professional to guide and assist you can save you money. A clear vision and well thought through design can help efficient project progressions and eliminate mistakes. We can also help with procurement by understanding exactly what is required and if there are alternatives.
PLANNING SERVICES
MAKING PLANNING ISSUES SIMPLE
We have many years of experience working closely with local planning teams all over the UK. We keep fully up to date on all planning and building consent regulations and can help guide your project through to receiving full planning permission and advise on planning rejections and planning appeals.
CONSTRUCTION AND BUILDING TEAMS
FINDING THE RIGHT CONSTRUCTION TEAM
HSSP have built a network of skilled, reliable builders and contractors that we can recommend. We can provide quality control throughout the build and help you to complete your project efficiently, whilst managing the budget.